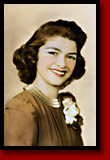 Carmelita's high school graduation portrait graces the cover of each menu
Carmelita, Seattle's Premier Vegetarian Restaurant, opened its doors to the public on December 1st, 1996. Proprietors Kathryn Neumann and Michael Hughes found that their dream of opening their own place had become a reality. Named after Michael's mother Carmelita and inspired by her love of life, art, food and family, Neumann and Hughes set off on a journey that they are still on today. The restaurant was designed and decorated by these two former decorative painters from Chicago. Construction and buildout exceeded 1 year and thanks to friends and family, including Master Carpenter Carl Olofson and Architect Craig Knebel, Neumann and Hughes were able to complete the task.

The restaurant seats approximately 100 diners in two interior spaces. The main dining room, "The Poppy Room" seats 78, with the smaller and more intimate "Carmelita Salon" seating the remaining 22. In Summer, diners can enjoy a peaceful outdoor garden patio, surrounded by fresh herbs, flowers and ornamental shrubbery. The patio season is extended by a heated and covered seating area, with flannel blankets for extra warmth.

The menu at Carmelita changes with the seasons. Every dish is made from scratch using only the freshest ingredients. Organic produce, grains, cheeses, herbs and spices are used whenever possible. Independent farmers and foragers are heartily supported, and local and seasonal ingredients take precedence over maintaining a routine menu. Change is a way of life at Carmelita, with daily specials and seasonal surprises delighting diners. Each season brings a feast to the table. From Fall and Winter's sweet and golden squash, to Spring's asparagus and artichokes, to the local harvest of late Summer with its bounty of heirloom tomatoes and sweet corn; everyone welcomes the changing seasons at Carmelita. Diners can enjoy fine imported and domestic wine and beer, selected to compliment the savory vegetarian fare. All of this and more is served up in a comfortable, eclectic and totally smoke free environment.